Trekking on Kilimanjaro
2 Breathtaking itineraries for trekking on Kilimanjaro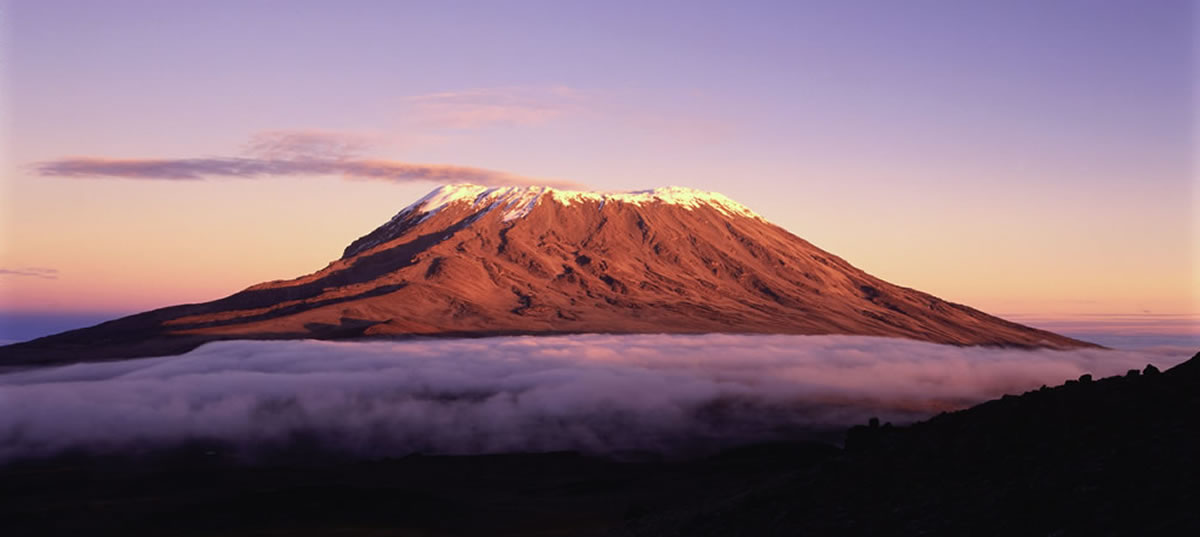 ALFREDO (Italy)
+39 393 721 9767
JACKSON (Tanzania)
+255 764 800 619
Mount Kilimanjaro
Kilimanjaro, shining mountain…
The name of the tallest peak in Africa, also one of the highest summits on earth, is of uncertain origin and is thought to mean "shining mountain".
Kilimanjaro, the mount of dreams par excellence, has always stood for majesty, spirit of adventure and discovery. The giant stands tall in the middle of the savannah, and the adventurer goes upwards through rain forest, heath and the hostile mountain environment before reaching its secluded top. Many worlds in one, where nature rules the roost.
Always under a blanket of snow, despite lying very close to the equator, it is a dream for all adventure seekers and lovers of extremes. Unequalled natural spectacle and one of the seven summits (the tallest mountains for each of the seven continents), Kilimanjaro is not only for professionals, but for all climbers since it has seven different paths leading to the top, from the easy ones for the beginners, with the most breathtaking views, to the most challenging ones for professional climbers.
The ascent is absolutely safe, since our crew will never let the climber alone. Our guides have unrivalled experience and are able to handle with expertise any unforeseen events. All one has to do is focus on the climb and behold the marvellous scenery, letting in as much Africa as one can…
A guide voice, together with the cook and the porters carrying one's baggage will keep company along the way.
The best months to climb the mount are January, February, July, August and September.
Currently, we have two itineraries for the climb: the Marangu Route and the Machame Route.
Marangu Route
The main route to the top is also called "Coca-Cola route", because in past times the locals used to sell bottles of the world-famous beverage to thirsty excursionists travelling along it. It is our suggested path because the only one to the top where trippers will be sleeping in lodges, not in tents.
The climb can be done in 5 days and 4 nights normally, but we have added time to allow for acclimatization to a poor-oxygen place (acclimatization is the climatic adaptation of an organism that has been moved to a new environment). This practice minimizes the likelyhood of AMS occurrence (Acute Mountain Sickness), typically taking place above 2,500 m), whose symptoms are headache, nausea, sleeplessness, fatigue and loss of appetite, generally causing the climber to abandon the feat.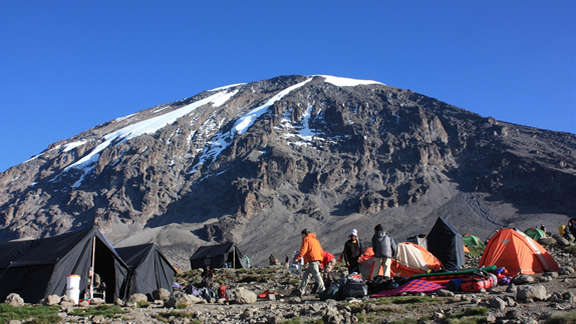 Machame Route
By far considered the most beautiful route to the Kilimanjaro summit, contrary to the Marangu route, there are no huts and your night stays will be in sleeping bags in tents.  On the other hand, the scenic views you get from this route are of unimaginable beauty in comparison with any other route, and this will repay the spartan conditions and the strain required to get to the top.
Also known as "Whiskey route", because it is harder than the Coca-Cola one, the Marangu route is the ideal path for the adventure seeker. All the necessary equipment and supplies are carried by the porters, including tent and food, whereas you can bring along your own sleeping bag, if you wish so.
The group is made up of a guide, a second guide, the cook and the porters: all you have to do is stay focused on the goal and put your heart into it!
This itinerary normally requires 6 days, but we have added time to allow for acclimatization to a poor-oxygen place (acclimatization is the climatic adaptation of an organism that has been moved to a new environment). This practice minimizes the likelyhood of AMS occurrence (Acute Mountain Sickness), typically taking place above 2,500 m), whose symptoms are headache, nausea, sleeplessness, fatigue and loss of appetite, generally causing the climber to abandon the feat. For this reason, the climb to Lava Tower hill, at an elevation of 4,630 m, will be followed by a 700-m descent, in this way enabling the body to get used to dramatic pressure changes, typical of marked differences in height.
Trekking: some general advice and what to bring along
Hereunder is some useful information on the necessary arrangements to make before you set out to conquer Kilimanjaro!
The itineraries include an additional day, as already pointed out, so that the body can acclimatize to the extreme conditions of Mount Kilimanjaro. A key factor, this, which most of the times makes a difference between success and defeat.
Your holiday can be tailor made by adding a safari tour in Tanzania's northern or southern parks or a few days in Zanzibar,  enjoying its white beaches and amazing flora.
The Kilimanjaro climb is another attraction worth doing.
The ever-changing weather conditions at such elevations make forecasts inaccurate, therefore no periods are better than others on the basis of predictability.

Being in good physical conditions and in good shape is another key factor, so medical advice before leaving is highly recommanded. You should take into account that you'll be walking anywhere between 4 and 6 hours in the morning, with a wake-up call followed by breakfast at 6.30 a.m. and another couple of hours in the afternoon, after lunch. A good state of mind is fundamental, on a par with good shape. Primaland's won't leave you alone, why should you not make it?
Hydration
Hydration is a fundamental aspect of the climb, it is therefore necessary to drink a lot.
From the second day onwards, you'll be drinking water from small streams, therefore we suggest adding pills or drops (Micropur) to be absolutely certain of the water quality, as well as taking supplementary mineral salts.
The proposed itineraries: characteristics
The tents used on the Machame Route are mountain-type, waterproof, made of a double layer of fabric and with a mosquito net. They are very comfortable, even for tall people and wide enough to allow room for your baggage.
On the Marango Route, you'll be sleeping in huts. The shelters have bunk beds, with toilet and washing facilities outside which can be communal or indipendent, according to the camp.
Coffee, tea, milk, cocoa, eggs, fruit, bread, bacon, sausages and other types of food are usually available for breakfast. For lunch, most of the time a packed one, hot soup, vegetables, cheese, chicken, fish, beef, potatoes, bread, cake and fruit will be available. The same food will also be available for dinner, but cooked differently. All in all, we will do our best to provide a varied diet, but being at these elevations may sometimes be a logistical hindrance to cope with. We suggest you bring along some energy bars and a lot of dry fruit to increase your calorie intake.
Your guides
The crew is made up of the cook, a guide and his deputy and some couriers whose number depends on that of the group of people making the excursion. These people have carefully been selected, on the basis of the necessary skills required and hands-on experience acquired over the years.
They will be your travel mates, as well as the physical and moral support when you need it.
You'll be provided with a first-aid box, useful for minor injuries, whereas in the unlikely event of major ones the crew will take the wounded to the emergency room in the Kilimanjaro National Park or, if necessary, to the nearest hospital. If the conditions are critical, as provided for by the insurance,  the wounded will be transfered to their country of origin.
Climbers who find it hard to acclimatize are not given an oxygen tank, which is therefore something to be paid for. If you experience altitude-related illness, the first thing to do is descend immediately for first aid. Once at the camp, on the basis of your conditions, the guide will decide whether you can reach the summit or must quit your climb and go back down to the camp, in which case you'll receive assistance by our staff. Although this can happen, it is very unlikely and is only pointed out for the sake of clear information.
Your baggage
As to your baggage, there are some restrictions.
Bags carried by the couriers on the shoulder must not exceed 15 kg and must be wrapped in a waterproof sheet. We suggest you bring along a bag not exceeding 5-7 kg. Carrying what's not strictly necessary should be avoided and unnecessary items should be left in our office or in the lodge for easier travelling.
This is a list of what is provided by Primaland:
Tents and all the necessary camping equipment
Water
Food
Tools
Guide, deputy, cook and porters
This is a list of what travellers should bring along which is NOT provided by Primaland:
Sleeping bag for temperatures lower than -10°C, which you can rent on site;
Knapsack for water bottles, camera, additional batteries, some warm clothes, rainproof cape, chocolate, energy bars and dry fruit;
Trekking cane or ski racquets;
Windbreaker, waterproof and thermal jackets. The thermal jacket must be good quality, so to protect you from temperatures that here can plummet to -25°C.
Piles and jumpers;
Thermal underwear. Cotton underwear should be avoided since it holds humidity, lowering the body temperature when it comes in contact with the skin. This can easily turn to hypothermia. On the contrary, thermal underwear allows humidity to disperse. You should dress in multiple layers as follows:

thermal underwear on the skin,
intermediate layer made of warm clothes and windproof, waterproof, breathable outer layer. The technical clothing made in accordance with these specifications are in Gore-Tex®, Vertex® and Entex®.

Thermal leggings;
Thermal socks and nylon or synthetic ones to avoid getting blisters;
7 pairs of thick, woolen socks to wear with trekking boots, which will have to be medium weight and large enough to wear two pairs of them at a time. It is also advisable not to use brand-new boots, but broken-in ones to avoid getting blisters. Needless to say, these will have to be waterproof.
Tennis shoes to wear in your free time at the camp;
Camping mat;
Mountain gloves and undergloves;
Wool ski mask (you'd better bring more than one);
Electrical torch and at least 4 replacement sets of batteries;
Hand torch;
Visor cap to use during the day;
Good quality sunglasses with a protection factor IREX 100 and rubberband to keep them around your neck;
Cream with high protection factor;
Lip balm;
At least two t-shirts and a cotton jersey for the final day;
A waterproof poncho is advisable since it is very sensible and fast to put on. It will be useful in case of sudden downpours;
A pair of trousers for lower elevations;
Two pairs of trousers for higher elevations;
Towels;
A small belt bag to keep documents and money in;
Medicines for personal use;
Drugs to treat headache, elevation sickness, diarrhoea, nausea, paracetamol, cold, pain relievers, disinfectants, antiseptic creams, eye drops, plasters and bandages as well as water purification pills or drops (fundamental).
Don't forget, among other things:
Some sets of batteries for your devices;
Some sets of batteries for your head torch, necessary on the final day since the last leg of the climb will be in the dark;
Binoculars;
Camera;
Pen and notebook;
Swiss Army knife (which must be stowed in the hold of the aeroplane);
Waterproof plastic bags for sealing (due to the wet weather);
Bathroom kit, soap, tissues, toothpaste, toothbrush and toilet paper.
There are no compulsory vaccinations for tourists entering Tanzania from Europe or the United States. The risk of getting malaria is very low, if not none, since there are no mosquitoes at high elevations.
Please refer to your local health unit for what is not included in the present, which is just meant for general advice, or any further medical advice. As to the entrance visa, please check the relevant section under "general information" web page.
Prices
Lastly, we would like to point out that by searching the web, you'll certainly come across lower prices than we can offer.
We CAN offer, as a matter of fact!
Whoever wants to provide services up to customers' expectations will have to consider that quality depends on many aspects, from the equipment used to the lodges chosen, the freshness of the food offered and the incomparabile role played by the staff, alpha and omega of any human experience.
Quality is what we aim at in our conception of holiday, which to us is not merely a "package" but a microcosm of emotions to keep forever in the treasure trove of your heart…